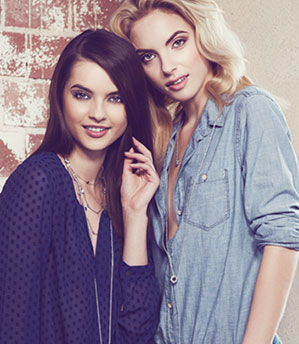 With the Oscars approaching this coming Sunday, we're thinking of all the daring necklines and sexy styles we'll be seeing on the red carpet. One look that we would love to see more of this year is a plunging back with a sparkling backlace, or the back necklace.
We've dug up some of last years Oscars stars that could have looked even more glamorous with a long layered backlace.
Kate Hudson looked absolutely stunning in this Atelier Versace draping piece. Our dainty multi stone long necklace in white topaz would look amazing, as it would imitate the drape of her gown.
Lupita Nyong'o's powder blue Prada dress made the perfect backdrop for the Double-drop Y necklace. To keep in theme with the light blue tone, the blue topaz stone would look great on her.
And in case you forgot, Jennifer Lawrence was on trend with her diamond backlace and bright peplum dress. Her short cut really draws attention to the jewelry and she looked gorgeous as ever!
Would you be willing to try out this daring style? Hopefully we'll be seeing more backlace inspiration this weekend at the Oscars!