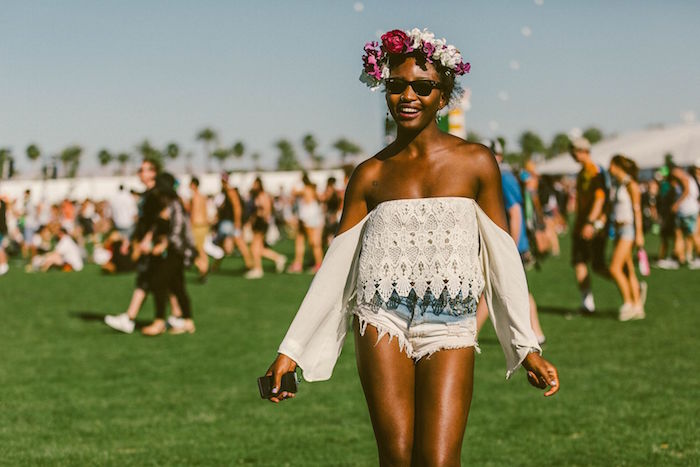 'Tis the Coachella season! The sun's out, which means it's time for your inner bohemian goddess to come out of hibernation. Apart from being the year's most coveted venue for bands and parties, Coachella has gained a red carpet status for hippie-chic fashion. Every year, Coachella anticipates an A-list roster of stylists and celebrities to reveal their fashion A-game and reveal the next trend. Apart from creating serious #FOMO and filling up your Instagram feeds, Coachella marks the beginning of summer style.
The Ghost of Coachella's Past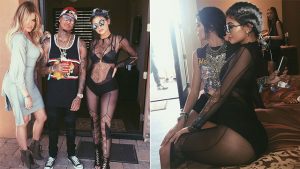 Remember when Kylie donned this geometric, sheer bodysuit. A futuristic Lara Croft meets Rihanna circa 2013, this outfit breaks the Woodstock rules. Rebellious, dark and sexy, Kylie knows how to make a statement. With grey braids and coordinating Fendi sunnies, this look is one for the books.
When Beverly Hills Goes To Indio
Paris Hilton swaps a flower crown for cat ears with a whimsical For Love and Lemons Dress. Paired with ballet flats and heart shaped sunglasses, Paris rocks a sweeter look. As if Stevie Nicks raised Lolita in the 90210 area code, Paris effortlessly stepped up the lace game.
The Double Take
Taylor Swift's bleached blonde, chopped hair is anything but precious. A complete 180 from her girly, precisely curated looks, Taylor's black mini skirt and oversized grey t-shirt is not simple. With Golden Goose slide sneakers and metallic anklets, Taylor looks like a Hedi Slimane it girl ready for Guns 'N Roses.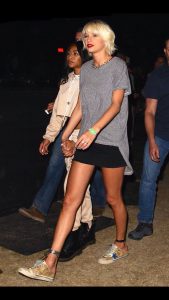 The Queen of Coachella
Vanessa Hudgens reigns supreme as Coachella Queen for the fifth year in a row. Her wavy locks, bronze makeup and sequined halter dress is quintessentially Coachella. I vicariously live through her as a walking, living, breathing Free People catalogue. She takes bohemian fashion seriously by not taking it seriously – always donning loose-fitted, mismatched clothes not only works, but also maintains the inherent integrity of the festival.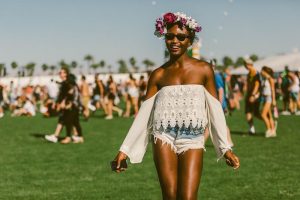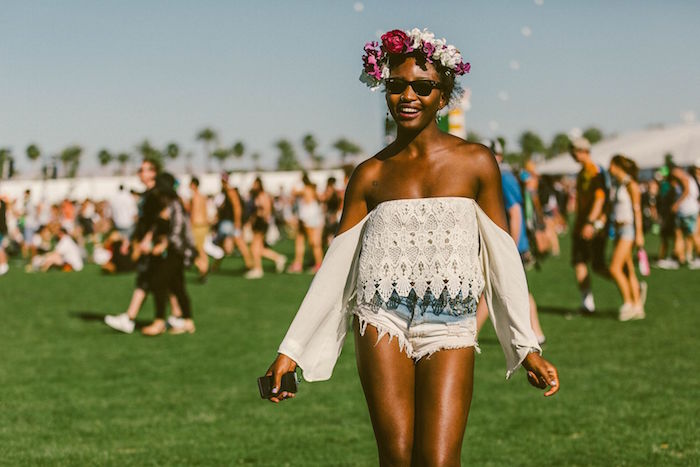 The Uniform
You can't go wrong with a flower crown, off the shoulder top and distressed shorts. Not only is it easy, but also you probably have some rendition of it in your wardrobe. It's reliable without trying too hard and simple enough to infuse your personal style into the pieces. Opt for light colors and loose fits for a boho look or go all black with metallic accents if you're more punk.
As for makeup and skincare, tread lightly. Pack travel sized minis to save space and keep your base makeup simple. You'll be sweating from morning to night so be sure to pack a powder and setting spray to keep it in place. To keep with the festival aesthetic, go bright and bold on your lips or eyes with lipstick or glitter shadow, but apply a smooth layer of tinted moisturizer to avoid cake-face.
Happy festival season! – B