Last week the fashion world lost a legend when Óscar Arístides Renta Fiallo, known professionally as Oscar de la Renta, passed away at the age of 82 due to complications from Cancer. One of the most renowned and talented fashion designers in the world, Oscar de la Renta was known for his elegant designs using color, volume and dramatic construction. Oscar PR girl had once shared this fashion questionnaire completed by the late designer that is witty, inspiring and insightful.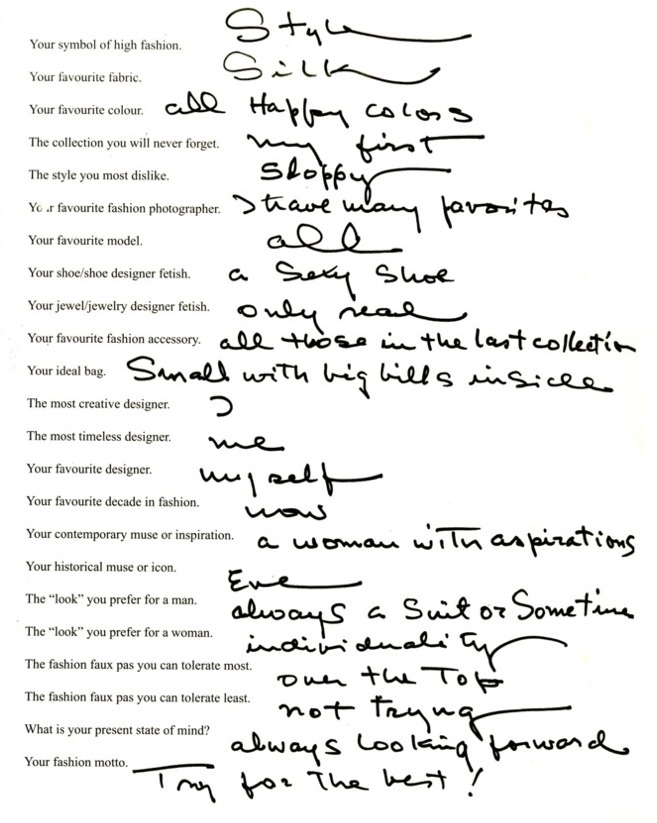 Your symbol of high fashion: Style
Your favourite fabric: Silk
Your favourite color: all Happy colors
The collection you will never forget: my first
The style you most dislike: sloppy
Your favourite fashion photographer: I have many favorites
Your favourite model: all
Your shoe/shoe designer fetish: a sexy shoe
Your jewel/jewelry design fetish: only real
Your favourite fashion accessory: all those in the last collection
Your ideal bag: small with big bills inside
The most creative designer: I
The most timeless designer: me
Your favourite designer: myself
Your favourite decade in fashion: now
Your contemporary muse or inspiration: a woman with aspirations
Your historical muse or icon: Eve
The "look" you prefer for a man: always a suit or sometime
The "look" you prefer for a woman: individuality
The fashion faux pas you can tolerate most: over the top
The fashion faux pas you can tolerate least: not trying
What is your present state of mind: always looking forward
Your fashion motto: Try for the best!